Zootopia Welcomes You!

The wiki about the Disney film Zootopia that anyone can edit.
There are currently
855 articles
since the opening of this wiki, but there's always room for more! You can help us expand!
Synopsis
In a city of anthropomorphic animals, a fugitive con artist fox and a rookie bunny cop have banded together in order to solve the case of a missing otter and uncover a conspiracy.
Characters
(click on the character image to read more)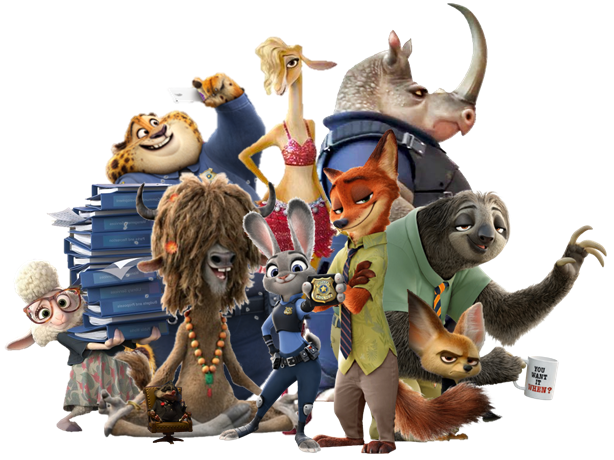 Poll
Who's the best bad guy in Zootopia?
User Blogs
Paddington 2, Early Man, A Wrinkle In Time, Incredibles 2, Ant-Man and The Wasp, Christopher Robin, Smallfoot and Dr. Seuss' The Grinch 2018.

Read more >

Happy Anniversary to one of my favorite Disney animated movies from my childhood and gave inspiration to Zootopia, from 1973, Disney's Robin Hood!

Read more >
Click here to see more blog posts.
Spoiler Alert!

This wiki is a plethora of spoilers for the movie Zootopia and everything related.

Featured Image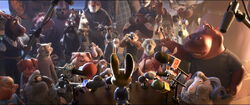 Judy Hopps is interviewed by several news reporters. (Zootopia)
Featured Quote
"[Phern] spells her name with a "Ph". Maybe I should spell my name "Knick" from now on."
―Nick Wilde. (Zootopia)
The Administrative Team
Not sure who to talk to when you have problems regarding the wiki? Talk to the Administrative Team!
Contributing and Helping Out
Have information on a subject relating to Zootopia that we don't have? Go ahead and make a page on it, but ensure it is in line with our Rules and Guidelines!
Type in the title first before clicking the button!
Not sure what to do? Go to our to-do list to find an article that needs improvement.
Poll
Which article should be the Featured Article for December 2018?
Affiliates
For more general information on Disney works, check out the Disney Wiki!
For more information on the Dreamworks franchise, check out the Madagascar Wiki!
To learn more about Illumination Entertainment's newest film, Sing, check out the Sing Wiki!
To learn more about the upcoming children's series, True Tail, check out the True Tail Wiki!
Disclaimers
You are required by law to be 13 or older when making an account on Wikia. This is passed under the COPPA policy. If you are under 13, you will be blocked. If you are 13 or over, we strongly encourage you to make an account.
We are also a
100% fan site
and are not affiliated with Disney in any way.