The Zootopia Police badge, also known as the ZPD badge, is an object used by numerous officers of the Zootopia Police Department.
Description
This badge is very similar to a real-life police badge. It has a star symbol in the center with the words "Trust, Integrity, Bravery" around it in a circle. It also has "Officer" on the top arch and "Police" on the bottom arch.
Role in the Film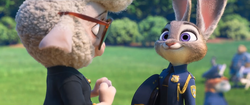 The badge is first seen at Judy Hopps' graduation ceremony. After Judy completed her training at the Zootopia Police Academy, Mayor Lionheart speaks at the event and announces that his Mammal Inclusion Initiative has produced its first police academy graduate and then presents Judy, naming her the ZPD's very first rabbit officer. Judy walks onstage and Assistant Mayor Bellwether presents her with her badge.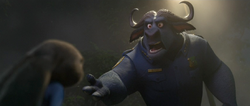 Judy leads Chief Bogo and the rest of the ZPD to the Rainforest District gondolas, where she had handcuffed the savage Renato Manchas to a pole. To her surprise, Manchas is nowhere to be found. Enraged, Chief Bogo demands that she hand over her badge for failing to solve the case within the 48 hour deadline, until Nick Wilde stands up for her, saying she will not give Chief Bogo her badge, and reminds him that they still have 10 hours left to find Emmitt Otterton.
After the missing mammals are found, Judy is interviewed at a press conference, and says that predators are becoming savage via their own biology. This causes a divide in the city between prey and predators. Ashamed of what she's done, she turns over her badge, resigning.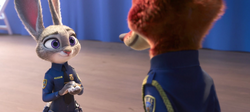 Months after the Night howler case is solved and Bellwether is arrested, Judy rejoins the ZPD, Nick goes to the academy and completes his training, and Judy, now an accomplished police officer, presents him with his own badge during his own graduation ceremony, and he becomes the first fox officer as well as Judy's partner.
Gallery
Zootopia: As Told By Emoji