Happy National Siblings Day to my fellow Zootopians! Did you spend time with your brothers and/or sisters today? I, myself, don't have siblings (I'm an only child), but I have a lot of friends that feel like siblings, so it's all good. Here's a photo of Judy with her parents and siblings! (Just a few of her siblings, not all 275 of them.) How did your family celebrate today? Sound off in the comments below!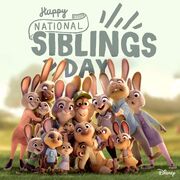 Ad blocker interference detected!
Wikia is a free-to-use site that makes money from advertising. We have a modified experience for viewers using ad blockers

Wikia is not accessible if you've made further modifications. Remove the custom ad blocker rule(s) and the page will load as expected.