Happy Mother's Day to my fellow Zootopians! Today is the day we celebrate that one special woman in our lives, and I'm not talking about girlfriends! I'm talking about our moms! They've raised us, taught us, and everything in between! So, tell us in the comments below how you celebrated today with your mom! Happy Mother's Day to Bonnie Hopps, Mrs. Wilde, and all the mothers of Zootopia and beyond!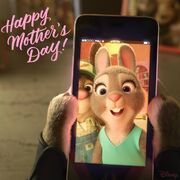 Ad blocker interference detected!
Wikia is a free-to-use site that makes money from advertising. We have a modified experience for viewers using ad blockers

Wikia is not accessible if you've made further modifications. Remove the custom ad blocker rule(s) and the page will load as expected.