| | |
| --- | --- |
| | This article is or has been a Featured Article on the Zootopia Wiki! |
The Big Donut, also called The Donut Shop, is a donut shop seen in Zootopia. It is located in Little Rodentia.
Description
The Big Donut is a round, flat, brown building that is covered in pink "frosting" and sprinkles. Mounted on the top is a large, donut-shaped sign that reads "The Big Donut". The restaurant is not a sit-down, but it has a to-go window and a few outdoor tables that surround the building.
Role in the Film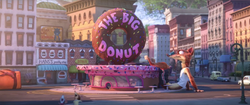 At the climax of the chase between Judy Hopps, and Duke Weaselton in Little Rodentia, Weaselton trips over the shop, and, hoping to distract Judy, kicks the donut-shaped sign off of its roof.
As the sign rolls down the street, Judy manages to catch it before it hits Fru Fru, and uses it to restrain Weaselton.
In "Necklace Nabbers", the fifth case of the game, The Big Donut is one of the locations where Judy Hopps and Nick Wilde search for clues of the stolen necklaces from the Tiger's Eye Jewelry Store.

Known Menu Items
Food
Trivia
Although The Big Donut is located in Little Rodentia and caters to rodents, it apparently caters to large mammals as well, as seen when Clawhauser has a box of donuts from The Big Donut on his desk. Moreover, there's a possibility that there could be other locations in the city for the larger mammals.
Gallery
Videos