"If Saharan luxury is what you're seeking, look no further then the Palm Hotel and Casino. This five-star hotel is centrally located and has rooms that boast amenities such as private pools, hibernation huts, and 360-degree views of the city."
The Palm Hotel (also called the Oasis Hotel[2]) is a hotel and casino seen in Zootopia. It is described as being "world famous".[3]
Description
Initially called the Golden Palm Hotel, it originally had steam pouring out its top, an attribute that was scrapped and instead used for structures in the Rainforest District.
Located in the center of Sahara Square, the hotel is 1,000 feet tall[4], and is designed to resemble a giant palm tree, hence its name.
Development
The Palm Hotel seems to have had a role in an earlier version of the film, as there exists concept art of Judy Hopps and Nick Wilde visiting it.
Role in the Film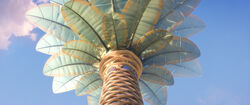 While not having an actual role in the film, the hotel can be seen a few times when Sahara Square is featured. Judy Hopps is seen gazing up at it in amazement on her way to Zootopia.

Known Menu Items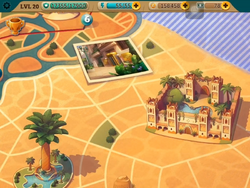 In Wi-Fi Jam, the thirteenth case of the game, the Palm Hotel is a crime scene investigated by Judy and Nick when it is reported that Wi-Fi signals are being jammed all around town.
In A Fine "Mes", the fourteenth case of the game, the Palm Hotel is the main crime scene investigated by Judy and Nick when all technology was sabotaged during the Mammal Electronics Show.

Employees
Trivia
Gallery
References
Ad blocker interference detected!
Wikia is a free-to-use site that makes money from advertising. We have a modified experience for viewers using ad blockers

Wikia is not accessible if you've made further modifications. Remove the custom ad blocker rule(s) and the page will load as expected.