This is a list of police officers in the Zootopia franchise.
Cape Buffalo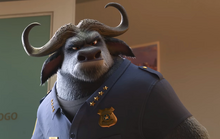 Chief Bogo is the chief of police of the Zootopia Police Department. Bogo, initially portrayed as the antagonist of the film, later proves to be a strong ally to Judy in times of trouble. He has a dry, though somewhat playfully sarcastic sense of humor, preferring to appear serious before revealing a light-hearted jest, as seen with his interactions with Officer Pennington in the beginning of the film and with Judy and Nick at the end.
Rabbits
Judy Hopps is an officer of the Zootopia Police Department. She is a fierce optimist who since childhood has believed that predators and prey are equal, and that anyone can be anything. She joined the ZPD on impulse of a childhood dream and later met up with Nick Wilde, a con-artist fox. After solving a hard case based on the savagery of predator civilians with Nick by her side, Judy persuaded the fox to join the ZPD. They now work side-by-side as partners.

Foxes
Cheetahs
Rhinoceros
Tigers
Wolves
Elephants
Lions
Hippopotamuses
Polar Bears
Pigs
Goats
Mice
Video Games
Horses
Literature
Wombats
Jaguars
Ad blocker interference detected!
Wikia is a free-to-use site that makes money from advertising. We have a modified experience for viewers using ad blockers

Wikia is not accessible if you've made further modifications. Remove the custom ad blocker rule(s) and the page will load as expected.