Judy's meter maid cart is a small police vehicle assigned to Judy Hopps in Zootopia. Judy uses it to issue parking tickets to vehicles around the city.
Role in the Film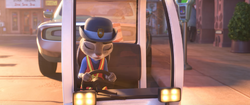 Judy's meter maid cart is first seen near the beginning of the film. Judy gets into it, eager to start the day, then realizes that it is extremely slow. She uses it to drive around Zootopia, issuing parking tickets as she goes.
On Judy's second day as a meter maid, after receiving rude comments from several animals, she gets into the cart. Knocking her head on the dashboard, she tries to assure herself that she is indeed a real cop.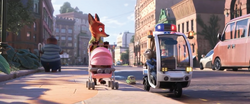 After taking on the Emmitt Otterton case, Judy pays Nick Wilde a visit via her car. She blackmails Nick into helping her and they drive to The Mystic Spring Oasis to find clues.
They later use the cart to get to the DMV and Tundratown Limo Service.
Nick briefly describes it as a "three-wheeled joke-mobile" given to her by the ZPD when he scolds Chief Bogo.
In the end, Judy is seen driving a new, larger car with Nick.
Role in Literature
Judy uses her cart several times in the book. It is first seen when Judy departs from the ZPD with it and heads off to do traffic duty. Then, after Ernie requests her help, Judy and the elephant drive to Central Station in the cart. Finally, at the end of the book, Judy uses her cart to get back to her apartment.
Judy and Nick are seen briefly using the cart, but they quickly transfer to a scooter on account of its greater speed.
Trivia
The cart's maximum speed is two miles per hour.[1]
Gallery
References
Ad blocker interference detected!
Wikia is a free-to-use site that makes money from advertising. We have a modified experience for viewers using ad blockers

Wikia is not accessible if you've made further modifications. Remove the custom ad blocker rule(s) and the page will load as expected.