The Hopps family home is a large house in which the Hopps family lives. It is located in Bunnyburrow.
Development
Some pieces of concept art for the house include Nick Wilde, implying that he visited the house at some point in an earlier draft of the story.
Role in the Film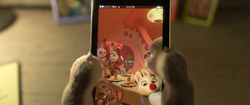 In a deleted scene, some of the house can be seen when Judy Hopps Muzzletimes with her mother, Bonnie. Judy speaks briefly to her grandpa, Pop-Pop. And in the actual film, while not seen, it shows a bit of the house when Judy Muzzletimes with Bonnie and her father, Stu.
Residents
Gallery
References
Ad blocker interference detected!
Wikia is a free-to-use site that makes money from advertising. We have a modified experience for viewers using ad blockers

Wikia is not accessible if you've made further modifications. Remove the custom ad blocker rule(s) and the page will load as expected.