Bug-Burga is a fast food restaurant in Zootopia. It is the predators' favorite place to eat plant-based proteins and all ground up insect protein that they love. The restaurant is not shown in the film, but its existence was confirmed by the creators.
Cameo in the Film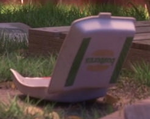 While the restaurant itself is not actually seen in the film, a discarded Bug-Burga box can be seen on the ground in an alley during
Judy Hopps
' second interaction with
Nick Wilde
.
Known Menu Items
Food
Drinks
References
Ad blocker interference detected!
Wikia is a free-to-use site that makes money from advertising. We have a modified experience for viewers using ad blockers

Wikia is not accessible if you've made further modifications. Remove the custom ad blocker rule(s) and the page will load as expected.